2011.02.20 Sunday
スポンサーサイト

2011.02.20 Sunday
merry-go-round☆

2011.02.05 Saturday
★NEW COLOR★

2011.02.01 Tuesday
This year's...

2011.01.12 Wednesday
a Happy New Year☆★☆
Hello everyone!

A Happy new year☆
Every happiness to you :)

The other day,
the big fan of 6%DOKIDOKI, Jo came to Tokyo from London!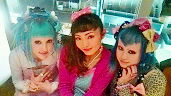 I love Jo's style and her way of speaking! Kawaii!!

I'm so glad to see her again in Japan♪


☆SHOPGIRL・YUKA★

2010.12.27 Monday
Tokyo Decadance Coordinate★

2010.12.20 Monday
Tokyo Decadance★

2010.12.16 Thursday
Trend of this winter!

2010.12.12 Sunday
Shooting Stars---★

2010.12.03 Friday
★Ribbon Hair★
Hello, everyone!!
Long time no see---♪
How are you?
Yuka blog is coming back :)
My first come back blog is about......
"Ribbon Hair"★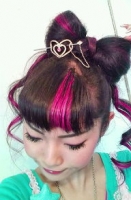 It'm my favorite hair styling!
I make my curly loose hair imaging curly ribbon :D
What's more!!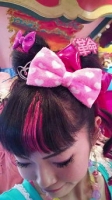 To put many bows on head is DOKIDOKERS style!!
What's your favorite hair style?? :)
★SHOP GIRL・YUKA★

2010.08.09 Monday
Kawaii Anarchy Girls!
Yesterday, the event "Harajuku Fashion Walk" was held in street of Harajuku♪

The content of event was let's do a fashion show in street of Harajuku,
I was so happy to attend♪
While at the fashion walk, when I turned around from the forefront,
the view splashed in my eye, it appeared the Harajuku city looked to be dyed rainbow.
The symbol of Happy, Rainbow!
I can't forget the words "very very dangerous..."
which models from Paris casterring with us said, when I talked with them.
They said that "because our city is very dangerous, we can't do Kawaii style always"...
So I thought about fashion walk after I heard that, all the same,
the fantastic, happy, smile and peace event was able to be done because here is Harajuku♪*
Now, Kawaii style (including life style used in foreign) is done only in Harajuku, Japan.
I hope the earth will be happy that everyone lives in all around world can do Kawaii fashion born in Japan without worriment...!!!

★SHOPGIRL・YUKA★